We have 27 years of experience in data recovery.
we have the latest recovery equipment and perfect environment.
MAIN
HDD
SSD
MEMORY
MOBILE
SERVER
CCTV
CLEANROOM
Data recovery with cutting edge technology!

MYUNG has performed over 370,000 successful data recoveries.

We provide ongoing research and development and Customer focusing services to improve customer satisfaction.

Myung Info, Tech's Data recovery techniques is recognized in the world.
In Korea, we are best known for data recovery in hard disk drives, backup devices, storage devices, RAID and servers.

Data recovery From all types of storage

If data can be stored on it, we can recovery data from it.

Our recovery service includes all media, such as, HDD, SSD, Mobile, Tape, RAID, NAS and SAN.
Data Recovery Business Field
Based on our expertise, know-how and experience, we offer various services such as diverse recovery, backup, deletion and forensic.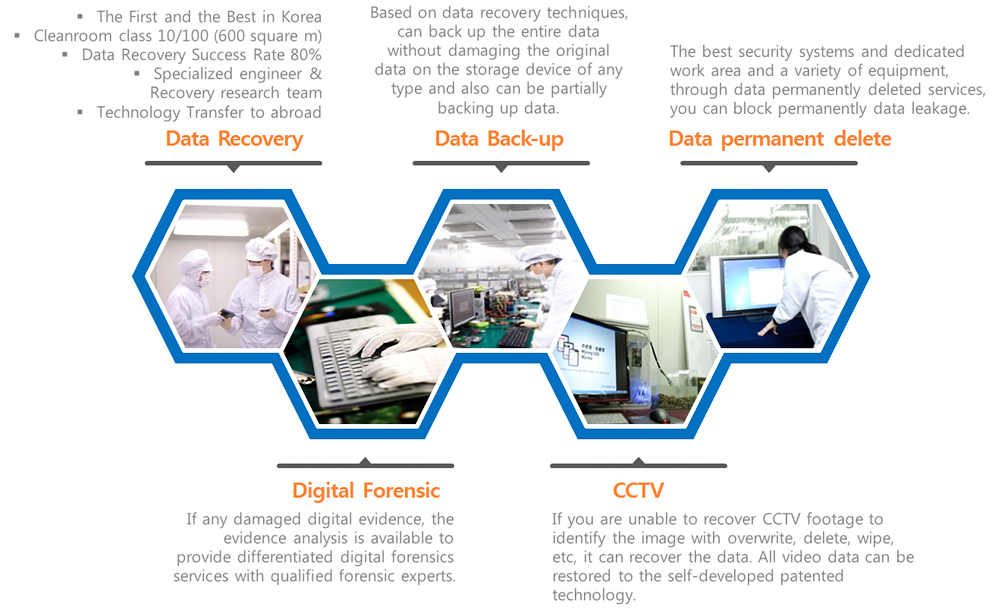 Core competitiveness
Keep the same clean room facilities as the drive manufacturing environment.
Real-time monitoring, fingerprint recognition and management. Manage access control with access management for safety secure
24 hour response to data loss, which does not occur in any situation.
Thoroughly receiving and releasing and processing
Recovery of multiple storage media including USB, SSD, smartphone, server, as well as hard disk drives.
Categorized by specialized engineer by media, field specialized, Obtained relevant certifications.
27 years of accumulated technology and extensive retention of raw materials and various raw materials.
Use the File viewer for data checking and protect customer privacy.
A nationwide network for quick and convenient service use.
Research & Development Department to obtain the latest technological strength.
DATA Recovery Process
Professional engineers guide you through the consultation process and data recovery steps before taking data recovery.
Request

counselling and receipt

Initial test and Diagnosis Recovery process

Data Check

Back-up

Shipping out
STEP1

- Request method

Ship through international courier ( EMS, DHL etc. )

Packaging method

The storage media is extremely sensible to shock and other damages.

While transport, please be ensured that the product is completely wrapped up the product and Please appear " Handle with Care " and " Request for Data Recovery " outter box.

Attached documents

1) Personal information ( Contact way )

2) Used environment.

Operating system used

1) Folder and file name ( exmaple to restore, C : / detailed data locations or so ! )

2) Data extension to restore like JPG, XLS, DOC, PPT etc.

3) Before request, situation and actions at your accidents.

Cautions before request

1. Restrain recovery programs, recovery tools.

2. Keep the current status intact and ask for repairs.

3. Do not use the storage media anymore.

4. Avoid shock on storage media.

5. Never open the cover or give a physical shock to your products.

Never attempt to power the power supply because it will disturb data recovery.
STEP2

- Receipt & Consulting

Confirmation of customer information, correct symptom and responses.
After checked, receipt ERP to your information with Serial Number registration etc.
STEP3

- First review and Diagnosis

Initial testing, symptom identification is critical in determining the process of working with the recovery process.
After accurate symptom identification, it is transferred to the functional recovery department in clean-room.
STEP4

- Recovery process

All data recovery project work by creating a copy prior to attempting to prevent further damage.
Each storage medium will work as a direct copy of the respective storage media.
The restoration works as a copy of the work as a copy, but in case of a situation, you need to proceed with the restoration of the original work, and then proceed with the customer.
STEP5

- Data Check

Once the recovery is complete, you can review the recovered data through a confirmation program that only you can verify by checking the results of your work.
Data verification is performed through a our own security program.
STEP6

- Back-up

Back up your DVD if the recovered data is lost
Otherwise, you can store separate storage media stores.
Hard copy for backup is either separately sent by our customers or you can buy new one.
The restored data will be stored for three days and will be deleted automatically after three days without other request.
STEP7

- Delivery

Once the recovery is finish, the data and backup medium will be returned after checked the payment.